The Bako National Park is one of the many national parks available in Kuching. The park famous for guaranteeing it's visitors a rare view of wildlife and amazing rock formations.  Facilities however are basic and you shouldn't expect to bask in luxury here.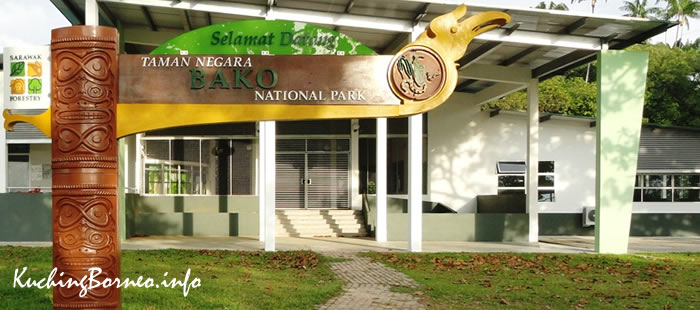 Address: Bako National Park, Sarawak, Malaysia.
What It Offers:
The park offers a wide range of vegetation – swamp forest, scrub-like field vegetation, mangrove forest, dipterocarp forest, delicate cliff vegitation and more. It has been said that Bako contains almost every type of vegitation found in Borneo. It also contains a rich variety of wildlife and a coastline covered with small bays, coves and beaches.
Reason To Go:
Almost guaranteed to see wildlife including the proboscis monkeys, wild boar and macaque monkeys. The beach and the trails are well marked and the the sunset is magical. The beaches are also well bordered by limestone and standstone cliffs which make unique shapes such as the landmark Sea Stack.  The journey to Bako is also not to be missed as you can observe mangroves and wildlife.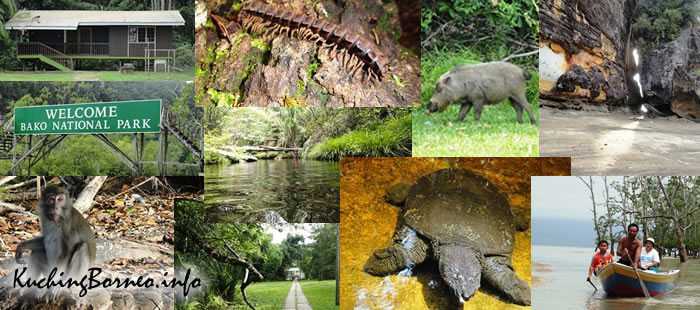 Do:
trekking
nightime sighseeing/night trail
photography
check out wildlife
 Facilities:
Canteen
Type 5 Forest Lodges (2 rooms with 3 single beds & shared bathroom)
Type 6 Forest Lodges (2 rooms with 2 single beds & shared bathroom)
Hostel Rooms (4 beds per dorm & shared bathroom)
Campsite
Well marked trekking trails
 Getting There:
By bus: Take Rapid KL Bus (Bus number 1) to Bako National Park Jetty.
Pay entrance fee of RM10 per adult
Board the boat to Bako National Park (docking at Bako National Park will follow sea tide)
** Please make arrangements with the boatman for your return trip.
Website: http://www.forestry.sarawak.gov.my/forweb/np/np/bako.htm